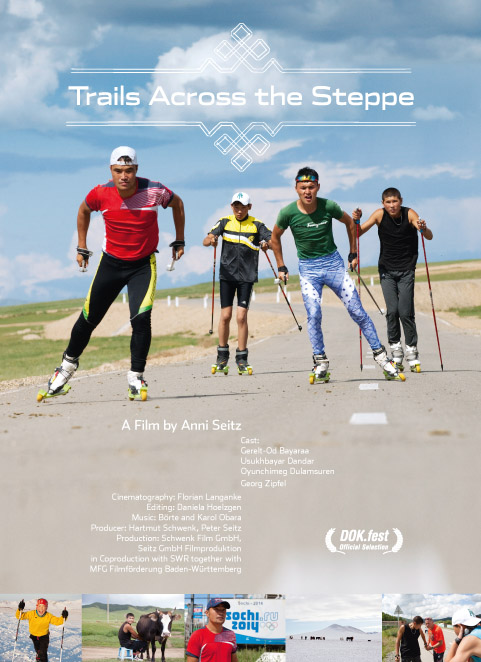 Trailer
Content
This movie is about the dreams and opportunities of young Mongolian cross-country skiing athletes, about their struggles to overcome all obstacles on their way to a participation in the world-wide society of professional sports. Lacking the basic preconditions to even try and qualify for other international competitions, the ultimate goal is to take part in the Olympic Games. Training facilities are all but inexistent, as are competition tracks that are accredited by the FIS. There is a scarcity of everything but the athletes' motivation and their will to fight.
The former cross-country skier and national coach Georg Zipfel, who feels reminded of his own difficult beginnings in the German Black Forest is on a mission to better improve this condition. In the name of the FIS Aid and Promotion Programme he supports the Mongolian skiing association, in order to help athletes like 15-year old Usukhbayar, 11-year old Oyunchimeg, and their coach Ikhinkhorloo, or the 26-year old professional athlete Gegee, all of which are depicted in the movie "Steppenlauf".
The young athletes are coming, like their coach, from Bornuur Sum, a rural area northwest of the capital Ulaanbaatar. They hope that their sport will give them, besides respect, a perspective beyond their families' lives as nomads. Usukhbayar is still attending school, and it will be a number of years before he will have to prove himself. Oyunchmeg is Ikhincherloos great hope for the Youth Olympic Games in 2013. The girl with the pigtails lives with her mother and brother in a yurt, and proved herself ambitious and focused during training.
Gegee is the captain of the national team and has graduated from the sports university in Ulaanbaatar. He is a professional cross-country skier – not an easy thing in a developing nation that might be rich in natural resources, but that until recently was almost exclusively based on nomadism, both economically and culturally. Gegee dreams of participating in the Olympic Games in Sochi 2014, but he is still in a competition with his team mates.
The movie opens with Usukhbayar at the first Youth Olympic Games 2012 in Austria, and from there it follows him into the wide steppe of Mongolia. At the summer training with Georg Zipfel, in between sheep and yurts and on the only paved road within many miles, we can see how difficult and poor the conditions are for Usukhbayar and Oyunchimeg. We learn more about them and their families, about the role that aspects like raising animals, nomadic tradition, and Buddhist faith play in their lives. During winter time, when for Georg Zipfel the competition seasons starts in Germany, the contrast is even starker. While there, snowcats work day and night to mould the perfect cross country ski run for the Tour de Ski in Val Mustair, the Mongolians have to prepare their run by hand – or rather, by foot. And Gegee will have to show whether he can qualify for Sochi.
It is a movie of contrasts, about the determination to follow a dream, providing us with intense insights in a rapidly changing world that is still strange to us.